Invisible Strapless Push-Up Bra
Perfect cleavage with maximum support!
Invisible Strapless Push-Up Bra gives you that extra lift while being completely invisible! Featuring a lace up front, the bra is completely adjustable.
Comfortable fit, perfect for strapless and backless dresses.
Our self-adhesive bra comes with a drawstring that helps lift your boobs and create a charming deep V look. The unique butterfly shape design helps to better showcase your beautiful chest curve increasing the sexy look of the bra!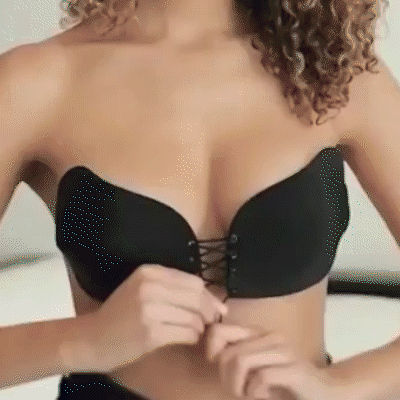 STRONG VISCOSITY --- made from skin-friendly biological silicone, which improves the flexibility of silicone, making the bra stick and mold naturally to the skin. The strength of this adhesive silicone eliminates the need for pesky support wires and even straps. This creates a natural and virtually invisible look!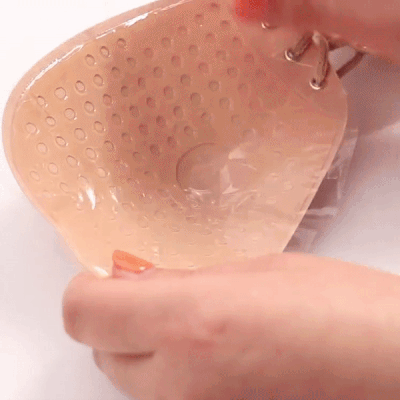 ELEGANT DEEP V SHAPING --- Unique drawstring and V-Shape design that helps push up your bust while remaining not only invisible but extremely comfortable. You won't feel that "need" to remove your bra no matter how long you wear it, but most importantly, you'll look your absolute best every time!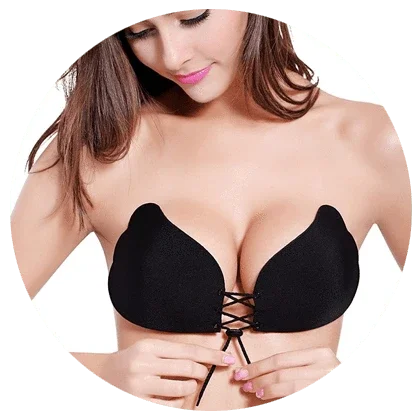 Comes with a "holed pattern" breathable composition, and an areola protection ring. This helps enhance the feeling of lightness and unrestraint while preventing sweat or discomfort from settling.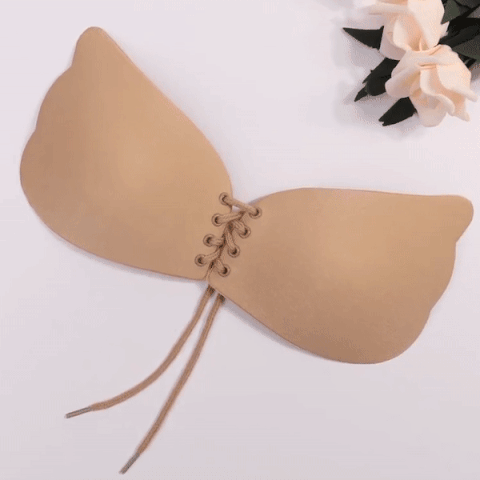 REUSABLE & WASHABLE --- Selecting only top-quality fabrics, Invisible Strapless Push-Up Bra is not easily deformed, and will NOT lose shape. You can comfortably wash it after use as you deem necessary and it will keep both its shape and viscosity every time!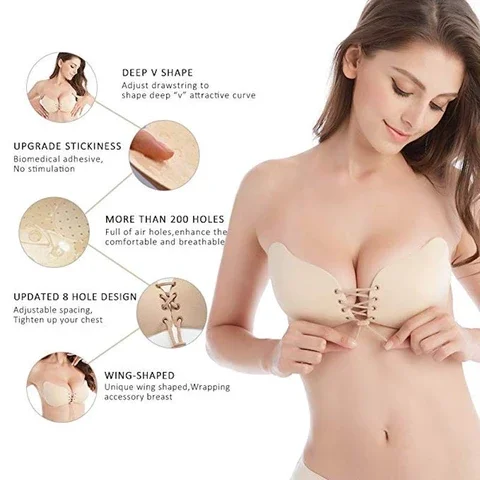 CARING TIPS:
Wash the adhesive side of the bra with a little soap and water after wear
Let it dry completely and paste the plastic sheets back on the adhesive sides
You should only wash it if you have sweat while wearing the bra, too much washing can damage its durability
If the bra loses its stickiness, try rinsing it with hot water then let it dry completely before pasting back the plastic sheets

Size selection
SPECIFICATION:
Bra Style: Seamless, Push Up, One-Piece, Adhesive Bras.
Material: Mian Lun
Cup Shape: Three Quarters(3/4 Cup)
Color: Black / Nude