FLAWLESS ALL DAY LIP PLUMP CARE SERUM
NO MORE LIP INJECTIONS - GET PLUMP & FULL LIPS IN AN INSTANT! THIS LIP SERUM IS DESTROYING THE BEAUTY INDUSTRY
Do you want to have stunning, full, and pouty lips in an instant?
The trending Flawless Day and Night Lip Plumper is the one you need. It helps create fuller, more voluptuous lips in a few minutes!
Plus, this serum kit moisturizes your lips and leaves them super smooth.

The innovative Lip Plumping formula is vegan-friendly and made out of carefully selected natural ingredients such as mineral oil, vitamin E, and peppermint extract. These ingredients increase the blood flow to the lips making them instantly fuller. It is also infused with a ginger extract which helps promote collagen production, leaving your lips visibly fuller, smoother, and healthier-looking on the term.
This kit features a combination of day and night use.
The ginger serum is intended for daytime use it  will give a little hot and tingly feeling for a  plumping and moisturizing the lips with a richer tone. It gives your lip extra life and vitality.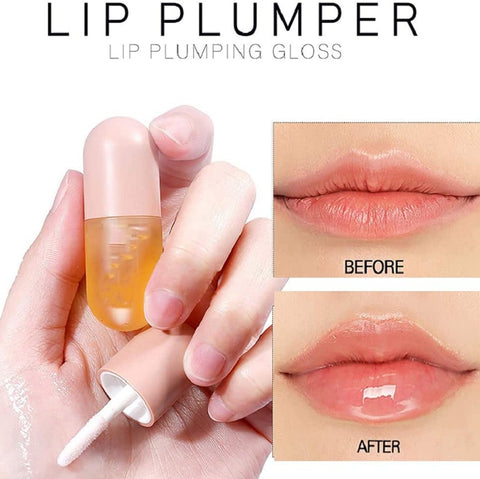 The peppermint serum acts as a moisturizer for nighttime use it heals dry or cracked lips. 
WHY CUSTOMERS 
LOVE
 THE FLAWLESS DAY AND NIGTH LIP PLUMPER:
✓ Multi-purpose -
The Flawless day and night lip plumper can act as an everyday lip care treatment, multi-functional makeup, and a plumping serum. It can help you prevent cracked lips. Also, it makes your lips look healthier, bolder, and moisturized.
✓ Instant fuller lips -
Amplify your pout within a few minutes and after a little tingling sensation, there is an immediate visible effect. Adds volume in an instant.
✓ For all lip types -
Whether you have dry, cracked, or thin lips, it is effective and safe to use.
✓ Handy and Convenient -
With its small size, it's very easy to bring around. You also can save a lot with lip treatments because you won't need them.
✓ Promotes Collagen production -
The innovative formula contains 100% natural ingredients which repair and moisturize your lips and leave them feeling silky smooth.

✓ Easy to use

 

-
Just apply the serum on your lips like putting on a regular lip gloss and wait a few minutes for the amazing results. 

How to Use Our Lip Plumper Set
Use the serum just like your normal lip gloss in the daytime. You may feel a little hot and tingly feeling, but it is the effect of plumping and moisturizing the lips. After a few minutes, you will see fuller lips and a richer tone.
Use the Peppermint serum to heal your dry or cracked lips. Use this before bedtime to moisturize your lips throughout the night.

The customer experience from Angel ⭐⭐⭐⭐⭐:
I've been wanting to try out this trending product and I was so amazed that my lips have become bigger and fuller. I also like the gloss, it gives me an Angelina Jolie vibe. This photo is was taken after 3 minutes upon application and I love the look! :)
The customer experience from Candice ⭐⭐⭐⭐⭐:
Omg! This is my holy grail! I was planning to get lip injections but I was so afraid of the procedure. I'm so grateful that I've found this product! I will not push through with my plan. I will just use this. The results are amazing, it is safe, effective and it also keeps my lips moisturized.
Specification:

Ingredients: natural ingredients
Size: 1.7cm*5.5cm
Package includes: 1*3ml Day Essence + 3ml Night Essence