Anti-vibration support for washers and dryers
Tired of the noise of the washing machine?

 

Do you want a 100% guaranteed silent wash?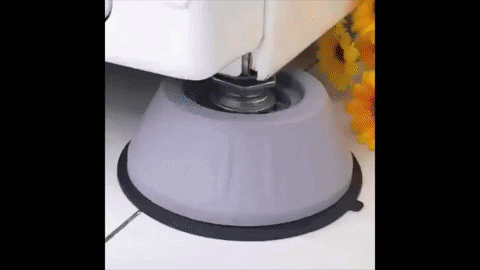 Our new anti-vibration support for washing machines provides excellent acoustic and vibration isolation , which will guarantee a completely silent wash . You won't have to close the door! 
- They don't just eliminate annoying noise!

 

- 
Anti-vibration pads have many uses and functions :
Easily lift your equipment to improve cleaning under the washer and dryer. 
 Stabilize the machine and thus reduce movement and noise to a minimum. No squeaks!
Fits all sizes of washer/dryer and can be used under the front loader or on top without adding too much height.
Suitable for:  washing machines, refrigerators, cars, washing machines, dryers, sofas, tables, beds, etc. For all!
Plus, you can easily lift, making it easy for you  to clean under the washer and dryer .
Fits all sizes and models of washers and dryers.
Also suitable for refrigerators, trolleys, sofas, tables, beds, etc.
Besides...
Long duration.
The washer pads are made of durable rubber that can withstand years of washing and drying.
Easy installation. 
Simply place a pad on each tube and place it on the floor or on the shelf. No glue needed!
- Specifications - 
Material: 

 
resin fiber, TPU adhesive.
Inner diameter:
 approx. 5 cm
Overall height:
 approx. 4 cm
Load capacity:
 2.5 tons
- Package Included- 
4 pcs * Shockproof Washing Machine Holder.